Earfun Uboom L Review – A budget friendly speaker with all the stops!
The company Earfun may be unfamiliar, and if there's anything I know about people and unfamiliarity, it's that they tend to stay far far away. However, I implore you to take a look at this Earfun Uboom L review, because I think this speaker will knock your socks off.
Earfun was established by a group of industrial designers, acoustic engineers, and music enthusiasts in 2018. They created this brand with one vision in mind, to create "superior wireless audio products" and they live by their slogan "Better sound, Better life".

They have truly hit the ground running, winning several awards every year since conception. Most recently, they launched their Earfun Eboom L. A budget friendly speaker that ticks all the boxes AND delivers on some pretty impressive sound.

Join me in this Earfun Uboom L review to learn more!

---
Name: Earfun Uboom L
Website:  https://www.myearfun.com/speakers/earfun-uboom-l-portable-waterproof-bluetooth-speakers-black
Price: $99.99
Manufacturer: Earfun
---
User Friendly: 9/10
Specs: 8/10
Design: 5/10
Sound Quality: 8.5/10
Value/Price: 10/10

Overall Rank: 8.1/10
---
Overview
The Earfun Uboom L at first glance is nothing fancy. It is probably one of the most basic speakers I've ever seen, and unfortunately gets ignored because of this. But as mentioned above, please do not disregard this speaker!
This speaker was developed in coordination with Olaf Lubanski, a Austrian published songwriter, producer and music geek with over ten years in the music industry. He claims that "This speaker will offer you premium sound quality, as my personal tuning focuses on natural sound reproduction without enhancing the frequency spectrum too much".
A lot of time was invested into the sound quality of this device, hence why the design fell short. However, I would take the hit on design if it meant getting some quality sound for my buck!
The Uboom L was developed with Jumbo Bass technology, and it shows! Oh and did I mention it has everything you could ever need from a portable speaker? For under $100 bucks!
---
How To Use It
The Earfun Uboom is very easy to use, and is even easier to navigate.
Along the top of the speaker is a rubber panel that breaks up the fabric mesh surrounding 99% on the speaker. Along this panel are numerous rubberized buttons allowing you to turn the speaker on/off, Bluetooth button, volumes up/down, play/pause and a button to switch between the three music modes: indoor, outdoor, and video. This is also where you'll find the mic.
Directly above the buttons are several LED lights indicating different status such as: power on, Bluetooth connected, battery life with 4 different lights telling exactly how much battery is left, and the sound mode.
On the backside you'll find a rubberized panel, and inside a 3.5mm AUX and USB-C charging port. Included in this panel is also a reset hole.
If you wanted to connect a secondary stereo Uboom L speaker, you can turn on both speakers and hold down both Bluetooth buttons while they are near each other.
In addition, the Play/pause button acts as the hands-free calling button, allowing you to pick up calls from the speaker. By pressing and holding this same button for 3 seconds, you can activate your Smart Assistant from your speaker as well.
---
Specs
The Uboom L literally has everything you could want from a portable Bluetooth speaker.
It is IP67 rated, making it dust, water, impact and rust resistant, and absolutely perfect for any environment you choose to bring it into. Accidently dropped in a deep pool? No worries, this speaker floats!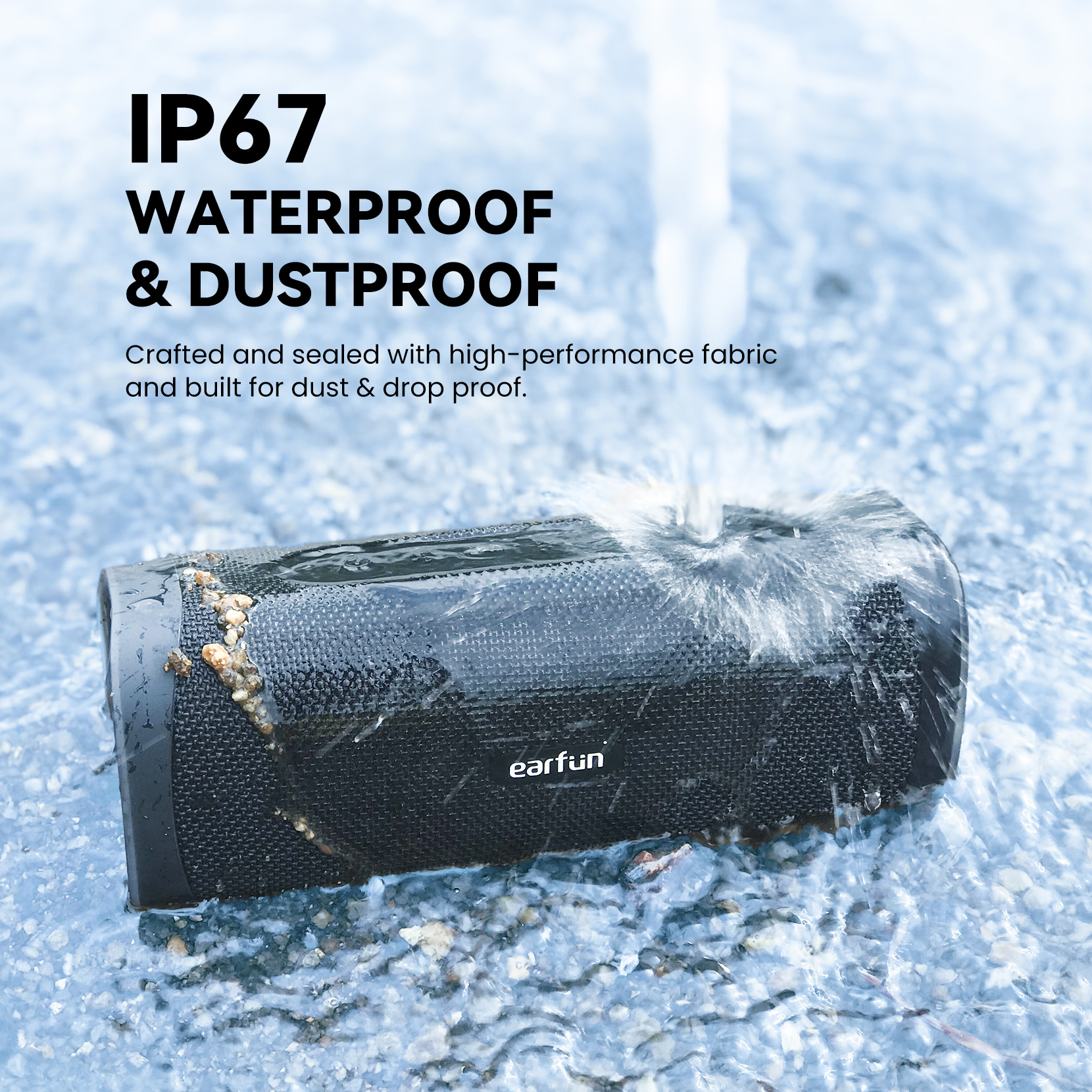 It has Bluetooth 5.0, making it's connectivity as far as 30 mm, and has 16 hours of battery life. With how impressively loud the speaker gets, you should almost never need to go above 70% volume, making this battery life very probable. It takes approximately 4 hours to charge.
Taking calls, connecting with your smart assistant, and stereo pairing are all included with this speaker as well, creating zero gaps between itself and 90% of all other speakers on the market today.
Although this speaker doesn't have a companion app, you can change the sound settings from indoor, outdoor, and video. Video enhances your playback, so when watching music or playing games, you won't experience lag.
---
Design
When you buy a budget speaker, your biggest concern besides sound is the durability and feel of it. The Earfun Uboom L speaker has all the cost of a budget speaker, but I promise you it feels like a solid, quality speaker.
Shaped almost exactly like the Sony SRS-XB33, this speaker has a cylindrical shape with rubberized ends to cover the radiators, and rubberized feet to absorb the major bass you can achieve.
The rest of the speaker is covered in a mesh fabric, built to keep out the dust and dirt, while presenting an almost 180 degree sound profile.
The speaker measures 78mm x 210mm x 72mm and only weighs 650 grams. It literally fits into the palm of your hand, and will also fit into a cup holder, backpack, or even a purse with ease.
---
Sound Quality
The important, and much anticipated part! There's no doubt about it, the care and attention of this speaker went into the sound profile.
The Earfun Uboom L features dual 55 mm drivers and passive radiators. The speaker delivers an output of 2 x 14 watts.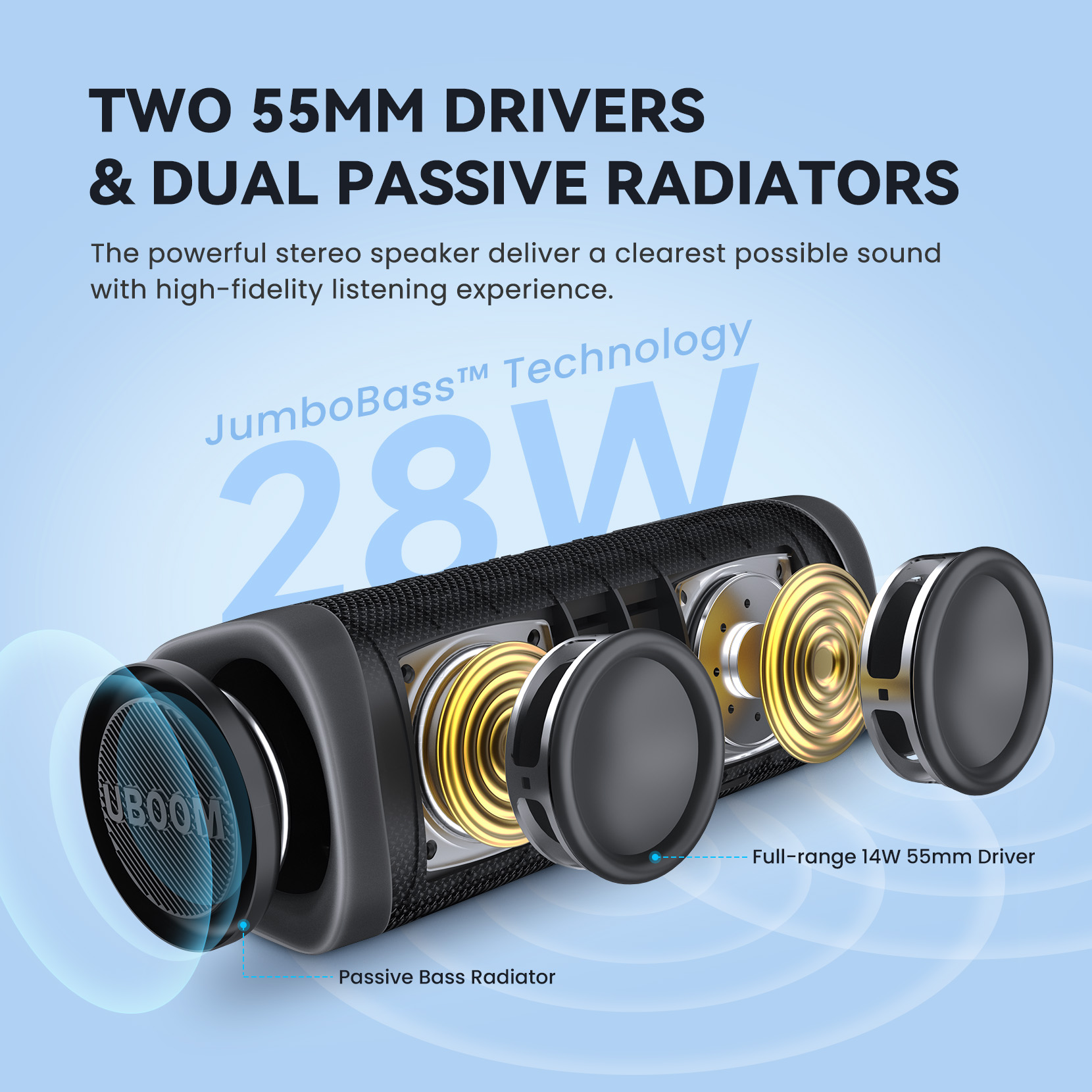 The passive radiators provide a solid base for the lower frequencies, and the speaker boasts softer mids that are impressive for an inexpensive speaker such as this one.
Regardless of music style, you'll be content listening to this device at high or low volumes as it manages its distortion well. You won't need to do very loud of this speaker, as it pumps out music beyond what you would think it's capable of.
I found I didn't need to go above 60% volume to be satisfied within my living room.
If you set it to outdoor mode, you'll find a bigger rumble, with some impressive bass.
---
Price & Value
Overall this speaker has some serious value in it and would be a perfect gift for someone wanting an all-around portable speaker.
There isn't much missed with this device, and for under $100 bucks you rally cannot go wrong!
10/10 value for price … something you won't see on most speakers.
---
My Verdict – A quality, inexpensive speaker!
My verdict is all the way on this speaker.
It has all the makings of a portable speaker..battery, build, durability and functionality. All of this for under $100 bucks, you can guarantee this speaker won't do you wrong.
If you can sacrifice an eye-catching speaker for a functional one, the Earfun Uboom L is the speaker for you!
Check out my other speakers reviews here to prove how great the Earfun Uboom L is in comparison!