Bose Earbud Reviews – Feel Confident Purchasing After These Reviews!
Bose Earbud Reviews
Welcome to my Bose Earbud Reviews, where I've set out to test and research exactly which of the Bose Earbuds are the right ones for you. After all, if you're going to spend quality money, you should have some quality research to back your purchasing decision!
Bose has always been a leading giant in the music/technology industry, and you can find their brand name in almost any household or business you attend. You'll never be disappointed with the quality of sound you receive from your Bose speakers, but when it comes to headsets, it can vary.
Although a master in what they do, everyone is built different with varying needs. Bose has created 4 different earbud/headset selections, and below I'll help you by giving you a breakdown of each.
By the end of my Bose Earbud Reviews, you'll know a brief overview of each earbud/headset, the specs of that product, and what there is to love as well as what sets them apart from their brothers and sisters.
Join me in reviewing Bose's most recent line-up of earbuds and headsets!
Overview
The Bose QuietComfort Earbuds are the most advanced earbuds made by Bose. They compete aggressively with the Apple Air Pods, and basically defeat most other earbud competitors.
They come in 4 different colors, 2 of which (Stone Blue & Sandstone) are exclusive to Bose. Having been engineered with the worlds most effective noise cancelling and high-fidelity audio, the QuietComfort earbuds are easily being reviewed as the best noise-cancelling headphones on the market.
As with most of Bose headset and earbuds elections, these QuietComfort buds come with Bose's trademarked "StayHear" max tips for added comfort. These are a soft silicon ear tips passively blocks noise while shaping perfectly to your ear with its small "shark fin" or "wing". In each Bose earbud/headset package, you get three different sizes to fit any ear.
The Bose QuietComfort buds feature 4 different microphones hidden within to monitor environmental sounds and react to produce a opposite signal that cancels out the external noise. Bose calls this their "acoustic noise cancelling" feature and is a first of its kind. With three different noise cancelling levels, you can guarantee you'll never miss a beat of music, or a conversation with a friend beside you. Simply double tap the left earbud to change your noise-cancelling levels from low, medium, to high.
While listening to your music, whether soft or loud, these earbuds have an optimized active EQ that boosts highs and lows. You'll get a consistent sound regardless of the volume on your headset.
This product has features like swipes, taps, and touches to control volume, transparency of your noise-cancelling, and call answering/ending abilities. The outside of the earbud is like a touch pad for full control without your phone. It also includes a charging case, and when fully charged, can guarantee 2 full charges to your earbuds. You can get upwards of 18 hours of play-time with these earbuds.
Specs
6-hour battery life; fully charged case can re-charge buds twice for an up to 18-hours listening experience.
Connects with the Bose Music App.
Has an IPX4 rating – acoustic mesh keeps debris and moisture out. Sweat and weather resistant.
Bluetooth 5.1, which is the best on the market right now. Connect your device up to 9 meters away.
Earbud 3.9 H X 2.6 W X 2.7 D cm.
Charging case 3.17 H x 8.9 W x 5.08 D cm
USB cable 30.5 cm.
Earbud charging time – 2-hours.
Charging case time – 3-hours.
Quick charge 15 minutes for 2-hour play time.
Has wireless charging abilities.
Automatic on and off feature when not in use for battery preservation.
What to Love About This Product
When the charging case is fully charged, it can re-charge earbuds twice. Gives 18-hours of listening-time without having to re-visit an outlet.
Bluetooth 5.1 is the longest Bluetooth capability, and the best on the market.
IPX4 rating guarantees water and dust resistance.
Acoustic Noise-cancelling feature picks up external noise distractions and counteracts with a tone that cancels out the external noise.
What to Watch Out for With This Product
6-hour play time isn't the longest on the market.
Carrying case larger than most on the market, not as compact.
Earbuds themselves look bulky and are very noticeable within your ear.
More expensive than its competitors on the market right now.
Overview
As mentioned above, the Bose Sport Earbuds are the little brother of the QuietComfort's. Boasting comparable features, these two earbuds have only a few differences that I'll explain below.
The Sport earbuds come in three colors and use the same proprietary technology that Bose is so proud of. The optimized active EQ boosts high and lows, so the music is clear and balanced, no matter how loud or soft your music is playing. Their acoustic port design and high-efficiency drivers combine and deliver massive sound from a small package.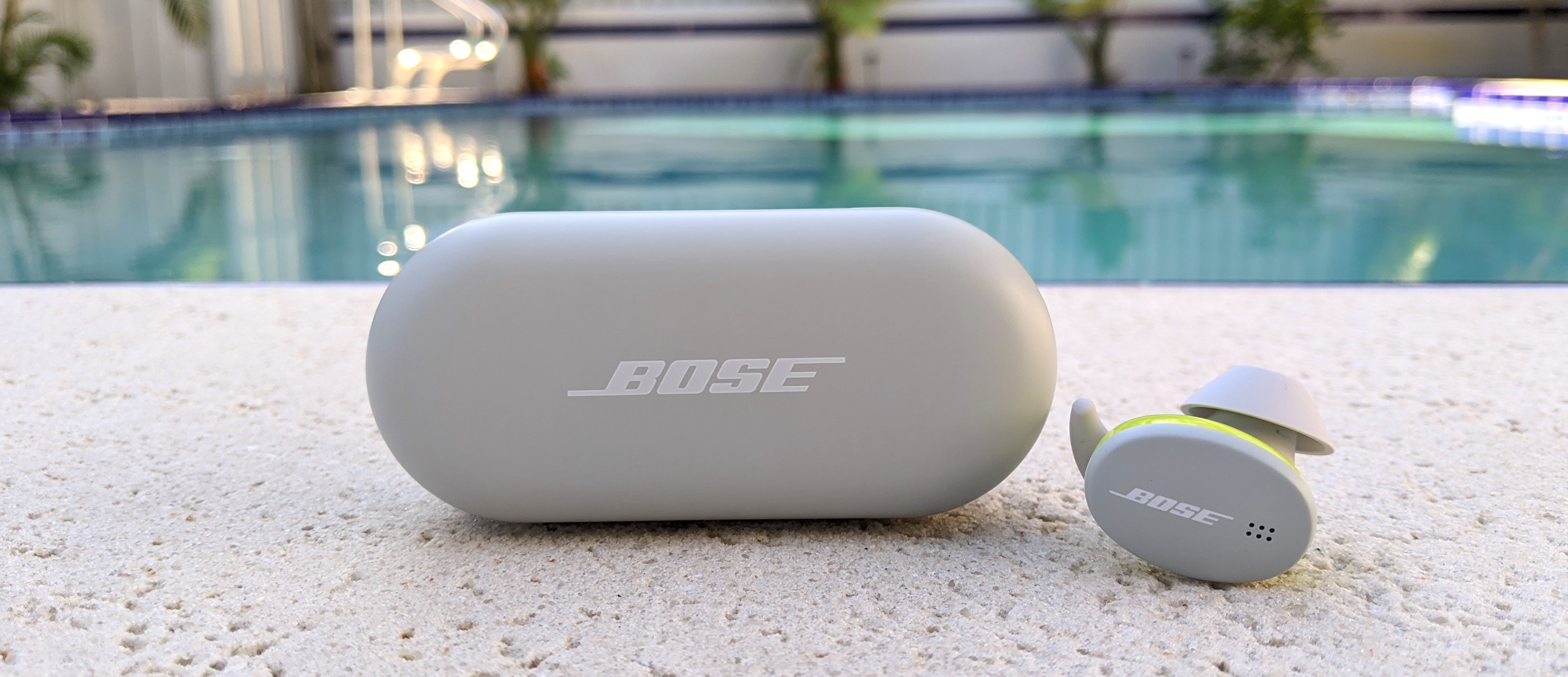 Each Bose Headset or Speaker has the "StayHear" max ear tip in three sizes to slide comfortably into your ear. All contact with your ear from the earbud is made from silicon to ensure comfort. Just as his brother above, the Sport carries an IPX4 rating, ensuring your buds stay safe and protected.
Using the touchpad on the outside surface of your bud gives control functionality with a simple double tap. Change your song, turn the volume up, or answer a call.
Something the Sport version features that the QuietComfort does not is the ability to add a shortcut function to the earbuds through the Bose Music App, which allows you to create a function of virtually any kind. Things like battery life can be added or changed for specific functions to you and what you need.
Specs
5-hour battery life
With a full charge, the case can re-charge the buds up to 2 times. This creates up to 15 hours of play time.
Quick charge in 15 minutes gets you an extra 2-hours of play time.
Connects with Bose Music app controlling bud name, battery life, Bluetooth connections, EQ etc.
Earbud 1.87 H x 2.66 W x 2.1 D cm
Case 3 H x 9.14 W x 4.14 D cm
Bud charge time 2-hours, case 3-hours.
Automatic on and off feature when not in use for battery preservation.
Bluetooth 5.1 features 9-meter connectivity.
Wireless charging
What to Love About This Product
When the charging case is fully charged, it can re-charge earbuds twice. Gives 18-hours of listening-time without having to re-visit an outlet.
Bluetooth 5.1 is the longest Bluetooth capability, and the best on the market.
IPX4 rating guarantees water and dust resistance.
What to Watch Out For With This Product
Not as comfortable as QuietComfort version
People feel it doesn't secure in the ear well. Few reviews mentioning it felt insecure.
Shorter battery life than the QuietComfort.
Bigger case than competition on the market.
Overview
The SoundSport Headphones are the cheapest of the bunch and are a bit of a stretch when it comes to the term "Wireless".
Featuring 3 different colors, this device is connected by a single wire between the two earbuds, and just as its brothers and sister features the same flexible "wing" or "sharks' fin" silicon tips.
Something this device has that the others do not is a compatible "Tile" feature. Tile is the world's largest lost-and-found site, selling many versions of a Bluetooth tracker. The SoundSport Wireless headphones have this feature built in, and after registering, it can be tracked if you ever lose your headset.
The SoundSport has Bluetooth and NFC pairing abilities. It is not IPX rated, so the water and dust resistance that the others feature isn't guaranteed with this product.
Specs
05 H x 2.5 W x 3.05 D (23 grams).
6-hour batter life, 2-hour charging time.
3 different ear tips for different ears.
Tile functionality.
Bluetooth 5.1, 9-meter connectivity.
Comes with carrying case.
What to Love About This Product
Only Bose Headset that features "Tile" connectivity and headphone location abilities.
Least expensive choice of all the headphones.
Connects with Bose Music App.
What to Watch Out For With This Product
No charging case, only carrying case.
Has wire that attaches two buds together, not completely "wireless".
Must connect to USB for charging, no wireless charging case.
Not IPX rated for guaranteed water and dust resistance
Bose Sport Open Earbuds – $249 – Most Unique
Overview
The Bose Sport Open earbuds are the most unique on their line of earbuds and headsets. Featuring a open ear design that doesn't go inside your ear, appeases a collective group of consumers that simply can't handle the earbuds going straight into their ears.
The design slides around the back of your ear, and rests just above your ear canal to project music from there. There are 2 16 mm drivers that actively push music/sound towards you and away from anyone around you. The design was molded to fit naturally into anyone's ear.
This product is IPX4 rated for complete dust and water resistance with industrial grade thermoplastic exteriors to provide strength and structure during any workout or intense activity.
OpenAudio technology is the next step up to the more common bone conduction on todays market. This technology delivers clear and consistent sound with no vibrations like what you would get from bone conduction.
Controls on the device are similar to the earbuds with the touch pad on the exterior earbud surface. Change music, volume or answer calls and end calls.
The Sport Open has a magnetic charging base that takes 2 hours to charge for 8-hours of music.
Specs
Bluetooth 5.1 9-meter connectivity
Earbuds 5.5 H x 4.8 W x 1.9 D cm (14 grams each bud)
Carrying case 4.2 H x 11.3 W x 7.1 cm D (69 grams)
Charging base 3 H x 9.6 W (49 grams)
Connects with Bose Music App
Magnetic charging base
2-hours to fully charge for 8 hour of music
30-minute charge gets 3-hours quick charge.
What to Watch Out for With This Product
8-hour charge!
Bluetooth 5.1 best on market.
OpenAudio technology exclusive to Bose. Its counterpart bone conduction requires tight fit and irritates certain people
What to Watch Out For With This Product
Bulky compared to its brothers and sisters.
Doesn't come with charging case, only dock.
More expensive than Sport Earbuds.
Some people don't like that it doesn't go into your ear.
Only comes in one color.
So, What Will You Choose?
From the most advanced headset on the market, to the simplest form of headset, Bose has delivered to most consumers on the market today.
My Favorite? The Quiet Comfort! I am a stickler for the best of the best, and this product truly delivers on that. Coming in at just a little more expensive than its competitors, they call this product the best noise cancelling earbud on the market.
However, for those looking for a quality budget friendly alternative, I would suggest going with the Bose Sport Earbuds. With a reduction in price, you'll take a small hit to your battery life, but other than that, you're still getting a quality product at a budget friendly cost.
I don't think I could get used to the Bose Sport Open, and the SoundSport simply doesn't seem worth it to me.
I hope my Bose Earbud Reviews helped you find a product that suits your needs and doesn't break the bank!
Talk soon,
-B